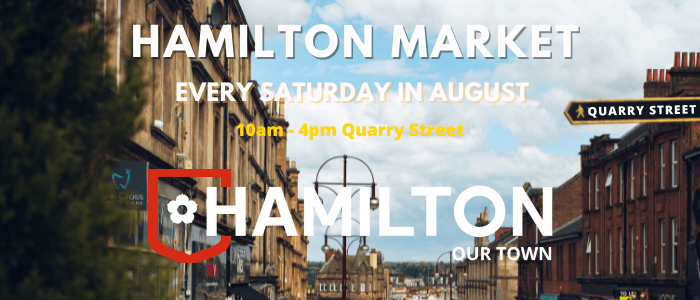 Hamilton Market
With just over 2 weeks until the 1st Market date on the 7th August we are all systems go for this 1st event taking place along Quarry Street. We have extensive advertising plans in place and ready to launch which include a billboard campaign, press and significant promotional activity across our social media channels. We are also delighted to include additional street theatre, face painters, balloon modellers, interactive kids trail coving Quarry Street and Quarry Place! All of this including the market is in place to support our town centre businesses through additional footfall, advertising and of course a free stall if requested.

More advertising: We will be out and about next TUESDAY to complete some short videos for our BID businesses to promote their participation. See you then!

Operational plans: Detailed plans will be sent out shortly to stallholders including stall locations However ahead of that please note that stalls holders can begin to set up their stall from 8am with the market starting at 10am. If you are selling food you now need to have your plans in place as outlined from environmental health. As a reminder handwashing facilities are required if you are handling food.

Stalls: We have been really pleased with the participation levels from BID businesses and thank those who have signed up so far however more stalls are available… If you haven't applied for a stall BID business get their stall for free but you need to be quick particularly if you intend to sell food. Click here to apply. BID businesses are the priority for stalls and support as this is our market.

And lastly as a reminder, the road will be closed each Saturday in August.

IF YOUR BUSINESS GETS A DELIVERY ON A SATURDAY AFTER 8AM PLEASE LET US KNOW URGENTLY AS ACCESS WILL BE STOPPED OTHERWISE.