Digital Open Day & Business Plan launch:
We have teamed up with Reach solutions and Made In Scotland to bring to you a Digital open day in Hamilton on the 25th August. Drop in at any point between 10am – 4pm on the day to gain expert advice on digital marketing and access to exclusive offers from Reach & Made In Scotland. 25th August also sees the launch of our business plan for the next 5 year period and we will be there to answer questions and chat through plans as a Business Improvement District. Business plans will also be sent out via the post.
Whilst visiting why not enter a draw, exclusively for attendees, to win 4 VIP tickets to see Kevin Bridges on the 15th September in Glasgow!
More information on the location in Hamilton will follow once we understand the level of interest. If you would like to drop into our open day please contact me at malcolm.thomasharley@hamiltonbid.org
Summer Events:
We are on track with plans to deliver 3 events on the 30th July, 6th & 13th August. Thanks to the town centre business getting involved with stalls and other activities and a special mention and thanks to the Hang On Climbing centre for the use of the facility enabling a free climbing experience on the days for kids. If your business wants to get involved in anyway please get in touch to discuss.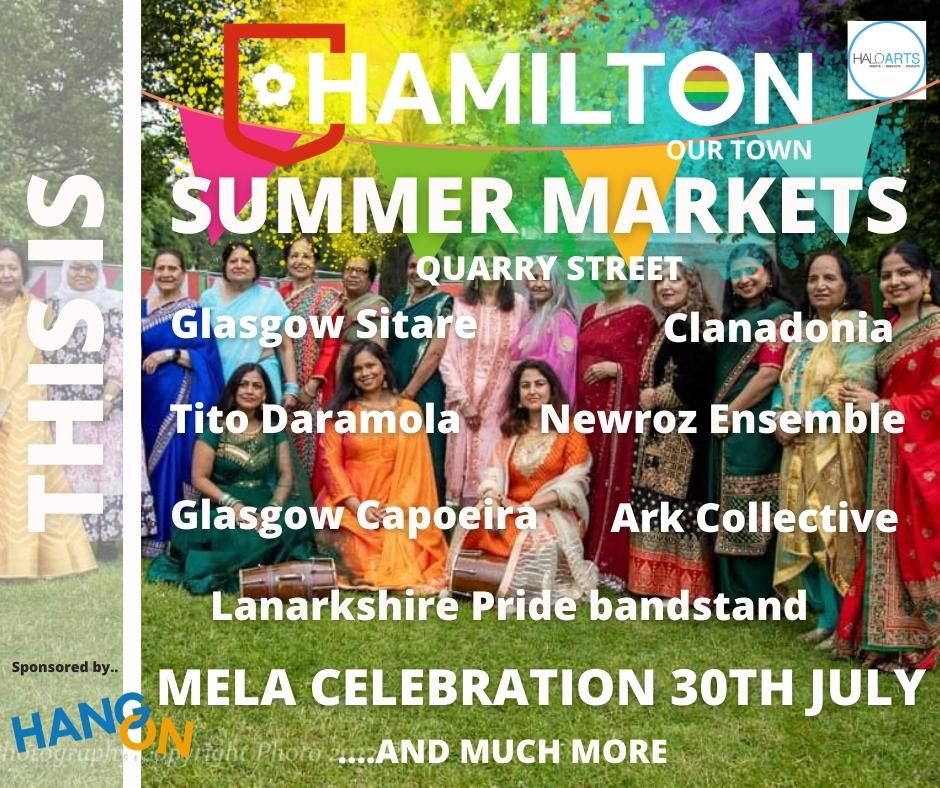 30th July Hamilton Mela: As well as a 35+ stall market, please see below the in-progress performer plans for the day.
Street platform:
12:00 Clanadonia
12:20 Top Note
12.40 Tito Daramola
13:00 Glasgow Sitare
13:40 MLU
14:00 Newroz Ensemble
14:40 Glasgow Capoeira
15:00 Taraful din Glasgow
15.40 Ark Collective
16:00 Close
Pride Lanarkshire Bandstand
12.40 Clanadonia (in front of bandstand)
1.00 Intro with Garry King
1.10 Nomi Divine
1.30 Candy
1.50 Charli B Divine
2.10 Bonnie Banks
2.30 Cherry West
2.50 Skinny Minnie
3.30 Garry King and GKPA
Roaming
Think Circus
Roaming Stilt Walker
Bubble performer
Interactive circus performer
Pop up demos & workshops
Ross B- Freestyle Football
MLU Pop Up Workshops
Glasgow Capoeira Pop Up Workshops
Kids
Hang On Climbing Centre Free kids climbing
Operation Play Outdoors
Face Painters
Participatory Art